Italian version   

 English version    

 Download

Submit an article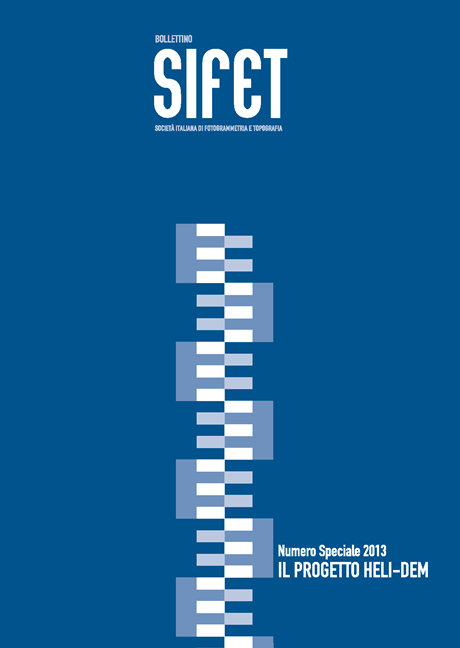 | | |
| --- | --- |
|  Editorial Board |        Publication Ethics Statement |
|  Instructions for Authors |             Formatting Guidelines |
|  Instructions for Reviewers |             Review form |
Bollettino SIFET 
The Bollettino SIFET, ISSN 1721-971X, is the official publication of the Italian Society of Photogrammetry and Topography (SIFET). The goal of the journal is to disseminate results in the academic and professional fields and experiences in the field of Geomatics, providing a platform for constructive debate and confrontations between stakeholders.
The journal is divided in four sections: Science, Profession, Education and Life. The Science section includes contributions with academic focus, intending new research results and innovative methods regarding Geomatic technologies and processes; in the Professional section the reader can find articles with reviews of  state of the art applications of related technologies, which are of particular interest not only to academics but also to end-users in the professional field; the Educational section is devoted to reports of dissemination of innovation and state of the art in higher education and in other levels of education (e.g. technical degrees); the last section, Life, groups all communication regarding activites which do not fall clearly in the previous three sections, but have to do with Geomatics, such as events, dissemination activities, presentations.
The articles follow a double blind peer review process, and, if accepted, will be published in one of the four sections, which is more representative, by decision of the Scientific Committee.
The review process will consider content, formatting, correct technical terminology and appropriate language, as well as innovation and originality of the article. 
Each article must have an English title, key words and abstract. The official language of the journal and of the main text is Italian, but articles written in English will be accepted. Abstracts are freely accessible by everyone from the website; downloading the full text requires access to the member area. At the end of each year, a printed copy of the Bollettino SIFET is distributed to all SIFET members via regular mail.
Member and non-members can publish. All authors who wish to publish in the Bollettino SIFET can send their contribution to the secretariat - for detailed information please read the instructions for authors here.